I have always considered myself to be very blessed.  However, I wouldn't consider myself to be very lucky.  I have never held a winning raffle ticket, never won a contest, never hit it big on the black jack tables….heck, I can count the number of times I have called out BINGO in my elementary classrooms on one hand. But in this instance – I hit the LOTTO!
Sarah Cornish from My Four Hens Photography is known world-wide for her family photography. Her raw, emotive style of photography is a special kind of beautiful. Her photos draw you in and make you FEEL what you see. Yes, her clients are often frolicking around in the gorgeous Colorado mountains styled in lovely on-trend apparel – but her photos go beyond capturing the physical beauty seen only by the eye. She has the gift of using her lens as a window into the hearts of her clients. She truly documents their love for each other.
Sarah has been mentoring other photographers for years. She has also teamed up with other amazing photographers to put on workshops. However, she wanted to take that experience a bit further. And thus, LEAP was born. She envisioned a weekend up in the mountains where a small group of photographers would gather and stay together, shoot together, eat together and learn together. An intimate experience which would push everyone past their comfort zone…you know…the zone where all the magic happens.
You could about image how many people wanted to score a seat on this amazing ride. Yeah, lots. Oh, and did I mention the fact that she has over 100K followers on Facebook alone? And no one knew exactly when she was going to make the sale live on her website…so I pretty much wrote off any chance of being able to go. I figured there was no shot I would somehow be lucky enough to log on exactly when her sale went live, and be quick enough to nab a spot before the other thousands of photographers who were waiting to pounce on this incredible opportunity.  I mean, come on. What are the chances?
Well friends, the seemingly impossible happened. We were on our way to an out-of-town basketball game and I thought, "let's just see how fast it sold out". So I logged onto Facebook and saw Sarah's post about her sale being live……and then I noticed the post was less than a minute old….heart racing….click link….scroll madly down the page and click "add to cart"….ponder for 5 seconds if I should actually do this….it would be scary….intense….past my comfort zone….but hell YES I wanna do this….click checkout….and uh-oh….I read, "your item is no longer available". Heart stopped. Pondering for 5 seconds was a bad idea. One should never second guess. And I did. And I missed out. I flipped back to the her Facebook post and commented, "did it already sell out? I had it in my cart and then I couldn't check out". Sarah immediately replied that it had in fact just sold out. Damn. I was THIS CLOSE. But then I thought, "I guess it wasn't meant to be. And that's okay. Maybe I am meant to go next year?" I started to feel better. Then…..I got a private message from Sarah, "Hey there! Someone accidentally added TWO seats into their cart. You were next in line. Do you want it?"……cue the Hallelujah chorus! YESSSS I want it! (notice I didn't do any pondering). Turns out I WAS supposed to be there. It was meant to be. There was no question.
Sarah put the lucky winners together in a private group on Facebook so we could all start getting to know each other. The trip wouldn't happen for another 9 months, but it was nice to start introducing ourselves so we could hit the ground running when we finally got to meet in Colorado.
Fast-forward 9 months – – it came so quickly. I had invited my mom and sisters to come out with me. That way we could have a couple of days in Denver for our annual Mother/Daughter trip as well as a couple of days up in the mountains to transform my family photography work. What could be better?!
We had all made our travel arrangements up to Estas before-hand in the Facebook group. Libby, one of the local Denver girls generously offered to give myself and two other girls a ride up in her vehicle. So they picked me up right at our hotel and we were on our way. The trip up to the cabin was like food for my soul. I had missed the mountains so much. I somewhat forgot how powerful they were in person. We gabbed about our personal and professional lives as we gasped at the jaw-dropping scenery right outside our windows. We made a pit stop in the town of Estas Park to meet up with all the other girls and grab a bite to eat.  Then we were off again; twisting and turning our way up even higher into the mountains to the cabin.
(forgive me, but these next couple images are just iphone snaps. My big camera was packed away in the back. I wanted to make sure I was taking it all in first hand and not through my lens)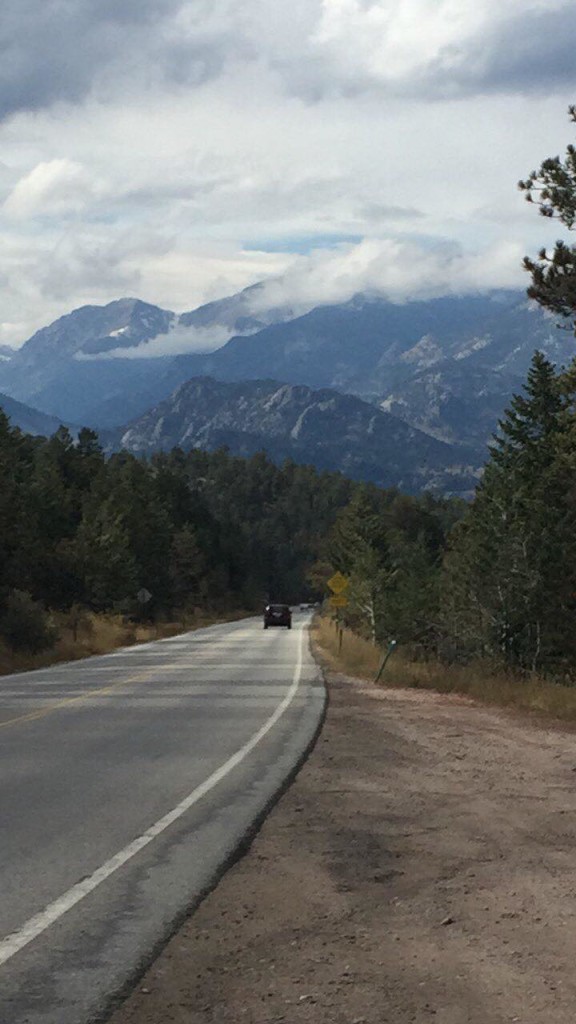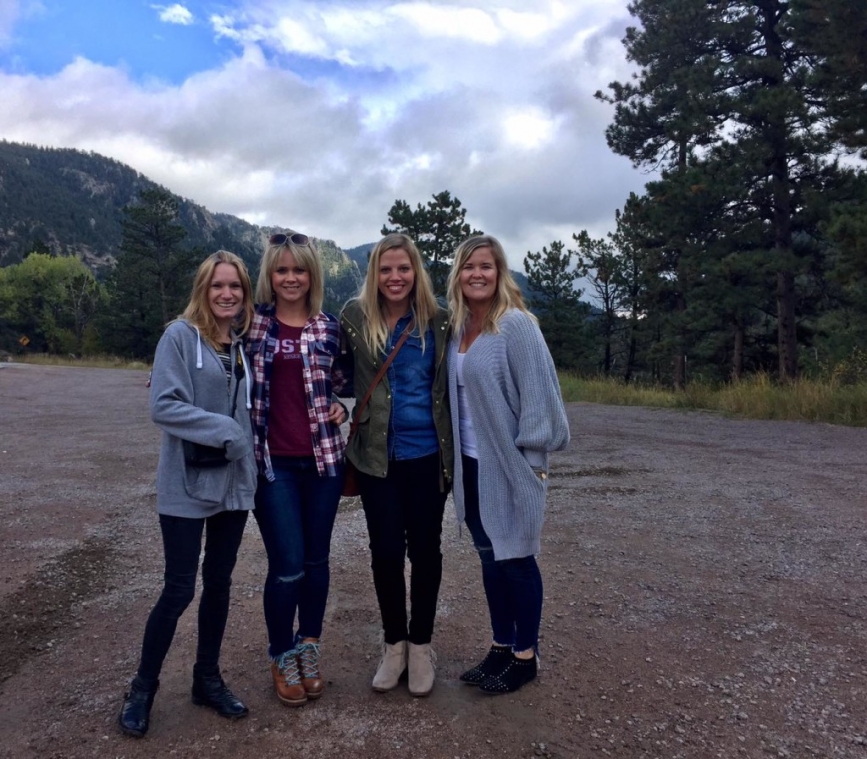 (from left to right: Chloe from the UK, me, Ashley and Libby)
When we pulled into the drive and I laid my eyes on that charming little mountain home, I had to take a quick second to let it all sink in. It had come. The experience I never thought would happen….was about to happen.
After claiming our beds, we helped one another drag in all of our gear and luggage. It wasn't long after we got all settled in that our models arrived for our first styled shoot, which was to be a mommy and me session. I adore mommy and me sessions so I was so excited to dive right in. Sarah briefed us on how she preps her clients and softly directs them through the session to create the emotional images all her clients are after.
That night our "den mother", LuLu made us a yummy meal of home-made enchiladas along with other delicious apps and side dishes. We all stayed up way too late talking shop and sharing glasses of wine in front of the on-again-off-again wood burning fire place . We finally decided it was time to turn in due to the sunrise head shot photo shoot that was on the agenda for the following morning.
The cabin was alive long before the sun was up due to the girls getting "ready for their close ups". I threw down some coffee, threw on my outfit, attempted to do a 10 minute hair/make up job and hustled down the dirt road.
It was an absolute stunning morning.  Our job was seemingly simple: take head shots for each other. But who knew how awkward a bunch of photographers would be in front of a camera. Ha! So we attempted to direct each other to look natural.
My roommate, Ashley from Oklahoma
How can you wear an adorable skirt like that and not do a little twirl?
Libby from Denver
Christine from New York
I wish I had photos of all the ladies on this trip! But of course we were taking turns with everyone and everyone was somewhat shooting at the same time, so it was pretty much impossible. But we had so many laughs and saw so much beauty that morning. Meanwhile, back at the cabin, Lulu was whipping up some thick cut french toast with home-made caramel sauce. Not to mention muffins, pastries, fresh fruit, mimosas and coffee (Yeah. We were so spoiled!) After breakfast, Sarah talked business with us. Marketing, finding our client base, pricing our product, and other odds and ends.
Soon after, our next model family came. We scooped up our cameras and watched Sarah work her magic. This session had two parts to it; the first part was a lifestyle session inside the cabin. I have done very few lifestyle sessions, so I really wanted to learn all I could.
(the session was shot in me and Ashley's room…it was so pretty!)

The second half of this session was done outside – right in yard. Did I mention…..I so wish I could buy this place!
It was a session like no other. I felt like a fly on the wall.  My sole purpose was to just watch and document. The end. Sarah gave gentle nudges here and there, but really, we just followed this loving family around and clicked our shutters when we felt moved to do so. It was lovely.
After we said goodbye to this adorable family, we headed back in for lunch and more learning. We all had 1:1 time with Sarah sometime during the weekend. I had my time with Sarah during this time frame. It was wonderful. I think I may owe her some money for the counseling she provided. Ha!
That afternoon and into the evening was our final session. In true Colorado fashion, the clouds rolled off the mountain, the temps dropped and it started to rain. But did that stop us? Absolutely not.
None of us could decide who had the best hair in this family…hung jury
I felt so many emotions on this trip. It was a professional journey. It was a personal journey. It was an emotional journey. I learned so much and felt so fulfilled, yet left wanting more. More of these women. More from Sarah. More of the mountains. More of the cabin. How can one feel full and empty all at the same time? I am beginning to learn that this is the life of an artist.
Sarah said a lot of things that hit me, but this really stuck, (and I am paraphrasing, and probably not all that well) "the family photography experience is starting to morph like the wedding photography experience has over the last few years. It's not all about the perfectly posed alter photos anymore. It's about documenting the love between the bride and the groom.  A family photography session should be an experience. A documentation of the love between a family.  And especially a mother's love for her family. It's my muse. It's my love language."
Moving forward I pray to incorporate all that I learned into my family sessions. I hope to be able to slow down and catch more of the sweet little moments that happen all on their own.  I am also still focused on learning from the best-of-the-best. It's been said that if one wants to be the best, one has to learn from the best. And having a background in education, I know this to be fact.
Bottom line: I want to be able to bring my A game to every session. My clients deserve that. If I can learn from the best in the industry, then I can be more confident in the product I am providing to my clients. I can't wait to see where this amazing photography journey will bring me next.
xoxo,
Anne
(iphone snap of the whole gang – thanks for the memories, ladies!)