This Christmas we decided to do something different. Instead of giving gifts of toys, clothes and other physical items, we decided to give our family the gift of time together on a vacation.
For years I have stressed out over buying gifts for the kids. What's the right amount of gifts to give? How do we keep it fair and even when our kids' ages are all over the place? What do we buy when they can't even tell us what they want (…..probably because they already have everything they want)? Where do we put/store all these gifts when we are already tight on space. How do I channel my anger when the kids play with their Christmas gifts for less than a day, loose interest, and then tell me they are board the day after Christmas??  (booze doesn't even touch that anger. HA!)
Thus we decided to head out to sunny Arizona to visit my dad and step-mom for a week! We surprised the kids with the news on Christmas Eve through a fun little scavenger hunt. We were relieved when the kids seemed genuinely excited about the trip! They didn't seem to miss all the "stuff" they wouldn't be opening. Of course it helped that at the time, it was 80 degrees WARMER in San Tan Valley! We packed up and  flew out just three days later.
We arrived on a Wednesday and set out on our first road trip adventure the very next morning to Sedona, AZ. It's a gorgeous city known for it's stunning red rock formations.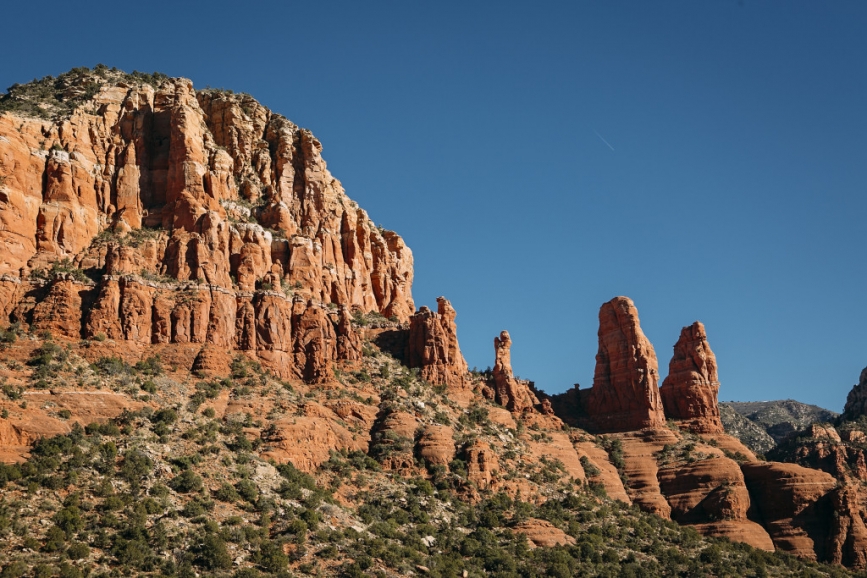 Our first stop was at the Chapel of the Holy Cross. It's quite a sight to see! The chapel is built right into the side of the rocks. I really wish I could have gotten a nice shot of the chapel itself, but it was packed with other tourists and with all the traffic, we couldn't pull over to get the shot I wanted.  But the views from the chapel were pretty amazing.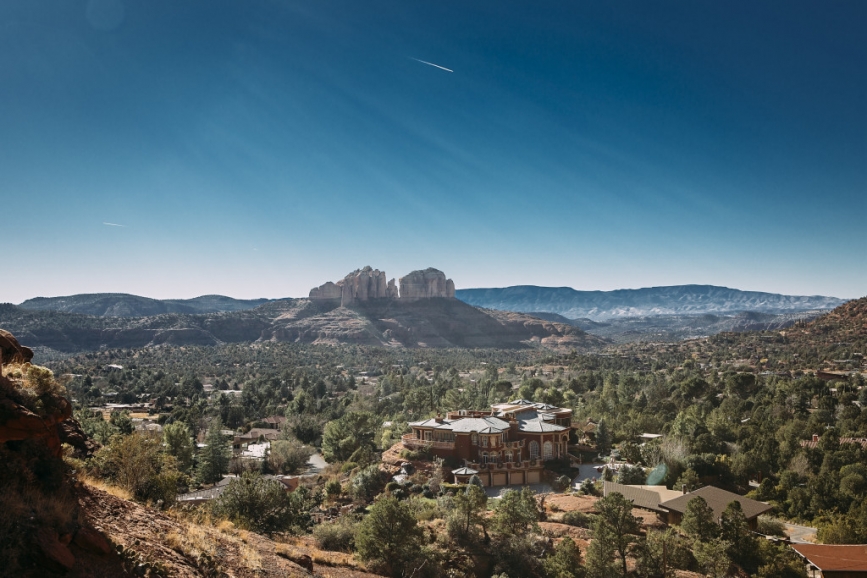 After the chapel, we really wanted to get up into those gorgeous rocks! So Carl did a little google search and found us a family friendly hike.
Claire thought the mountain in the background looked like Pride Rock from the Lion King. So she had to do a little "HAAAAAA SABENYAAAAAA" signin'!
We have done quite a few hikes in our day, but this hike was amazing. The views were incredible! And the hike was just perfect for the kids. We only heard the phrase "my legs hurt" a few times as opposed to the usual 100+ times.
We stayed the night in Flagstaff, AZ and headed out bright and early en route to the Grand Canyon. We had been talking about taking the kids there for years. Neither Carl nor I had ever been, so we were super excited to see one of the seven wonders of the world.
Two things I know for sure: 1). Nothing can prepare you for the beauty and vastness of the Grand Canyon.  2). Photos do it no justice.
We were all excited to go, but this sight was on the bucket lists of both Carl and Jocie.
Our first look out point was at the Watchtower. So cool inside the tower too!
Coming soon…Click by Claire
Another thing I wasn't quite ready for….how wide open the canyon is. Meaning there are very few guard rails. We walked the south rim for several miles and most of the time if you weren't paying attention and took two steps in the wrong direction, you'd be plunging to your death (….are you picking up on my mom-xiety right now?)
Speaking of no guard rails and going off the trail….the two bucket-listers needed to push the envelope a bit.
The absolute highlight of the day was the sunset. I had read about how magical it is, but again, nothing can prepare you for it.
The last few minutes before sunset
But in my opinion, the most beautiful sites happened right after sunset. Those vibrant colors and deep shadows were breathtaking!
We had a 4 hour car ride back to San Tan Valley, but thankfully the kids we so tuckered out by all of our hiking that they all slept almost the entire way back. (WINNING!)
We spent our remaining days hanging out in and around the house. Every morning (yes…..every morning) we were treated to Bapa's famous pancakes.
The kids had fun doing chalk art in the driveway, painting rocks, and making fresh lemonade.
And of course, you know we hit up the pool multiple times!
We also did a few hikes up at San Tan Regional Park (just a few minutes from the house)
Hiking is her favorite. Haha!
We had such an incredible trip. Lots of warm weather, awesome hiking and stunning views. But of course the most precious gift of all was TIME. Time with the kids and time with my dad and Barb. Because as we all know, time is the most precious gift we are given, and it's something you can never get back.
Thanks for the memories, Arizona!